On Friday morning, this was my view as I walked to my car:
All those little trash cans lined up along the curb - did you watch the early seasons of Weeds? I've had that "Little Boxes" song stuck in my head for nearly 2 days now; if past history is any indication, it'll be my earworm for the next 2 weeks.
This picture, I wish I could blow it up and make it bigger and circle all the cool things for you. This is my office:
If you click on the picture to see it original size, you can find:
a turtle lamp,
a dog,
a French Moodle,
zombies and monkeys and lil' homies that live on top of the computer monitors,
my magnetic-letter message to customers,
a Princess Frog,
the box for my WTF?! self-inking stamp,
my 2-sizes-too-big knee-high steel-toed rubbers,
a squeaky crab,
my monster peace lily,
box of pirate bandaids,
a scary pile of paperwork and license plates, and
the awesome Warhol-esqe Jimi photo (people regularly ask, "Is that Jim Morrison?").
Jimi's BFF was in town a few weeks ago and we met him and his wife for dinner at the Egg Roll Machine. This was my fortune:
"You will always have good luck in your personal affairs."
I don't put much stock in the words mass-printed on little slips of paper and shoved inside those sweet crispy little cookies - but the nice, upbeat, positive ones always make me smile.
Oh wait, here's one more: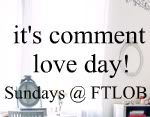 It's comment love day at
FTLOB
.
If you're a blogger or a blog-reader, FTLOB is awesome. Check it out.
Happy Sunday, Friends!